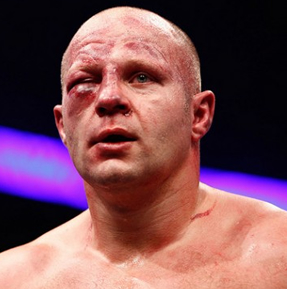 A Surprising Turn of Events From M-1 Global!
Earlier this week, the MMA world was shocked when it was announced FEDOR EMELIANENKO WOULD COMPETE IN THE COMBAT SAMBO CHAMPIONSHIPS IN RUSSIA. Now, in a surprising turn of events, M-1 Global has announced Fedor will honor the New Jersey State Athletic Control Board's suspension based on the beating the Russian legend took from Antonio "Bigfoot" Silva on February 12th at The IZOD Center.

"Fedor is observing the (New Jersey Athletic Control Board's) 90-day suspension, and will not compete at the (Sambo Championships) over the weekend," M-1 Global director of operations Evgeni Kogan emailed ESPN.com early Friday morning, which ESPN went out of their way to point out was "a reversal of what he said Tuesday."
Had Emelianenko competed in the Combat Sambo tournament, he would have ignored the Board's medical suspension that prohibited him from taking strikes to the head following the DEVASTATING BEATING HIS EYE TOOK FROM BIGFOOT DURING THE FIGHT ON FEBRUARY 12th
Emelianenko is required to submit a CT scan of his head and facial bones before being cleared to fight again. A scan taken in Russia is now under review by New Jersey officials, stated a member of the NJACB. A source close to Emelianenko told ESPN the scan was normal.
Had Emelianenko competed in the Combat Sambo tournament, he faced a revocation of his license in New Jersey for one year and placement on a national registry that would have jeopardized his ability to receive a license to fight in North America in that same period. Ask Josh Barnett how that works. The entire Strikeforce Heavyweight Grand Prix Tournament is now in chaos thanks to his licensing issues.
We're HustleTweeting about Fedor, and you're more than welcome more than welcome to join the conversation! Follow the Hustle on Twitter HERE or write to us directly at hustleoncrave@gmail.com
You can also subscribe (for FREE, cheapos, absolutely FREE) to our Ultra High Quality YouTube Channel HERE, and don't forget to check out our old school social networking skills by visiting us on Facebook HERE and even on MySpace HERE
CLICK ON THE PICS BELOW TO SEE OUR EXCLUSIVE PHOTO GALLERY
OF FEDOR EMELIANENKO IN NEW YORK CITY!

IT'S TIME FOR AN ALL NEW EDITION OF THE HOLLYWOOD CHARLIE
MEDIA WATCH, OUR DAILY TRAVEL ACROSS THE WORLD WIDE WEB.
OUR HIGHLY TRAINED MONKEYS HAVE PICKED OUT THE 15 WILDEST
STORIES FROM THE INTERNET FOR YOUR ASTUTE REVIEW. YOUR PART
IS VERY EASY. ALL YOU NEED TO DO IS PICK A PIC … AND CLICK!