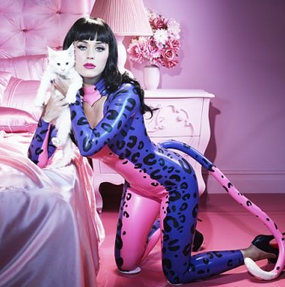 Russell Brand's Spectacular Wife Dazzles 'em South of the Border with Her Awesome Cleavage!
Katy Perry continued her quest for world domination with the release of her new "Purr" perfume, and we here at THE HEYMAN HUSTLE can only suggest Mrs. Brand wears similar outfits to her other press events. She'll be featured on this site every single solitary day, no matter what else is happening in the world!

Ever since she kissed a girl (and liked it), Katy has been a lightning rod for controversy. Whether it's her INSANELY SEXY PICS IN MAXIM MAGAZINE or her WAY-TOO-BUSTY-FOR-SESAME-STREET-OUTFIT (that actually got her censored on the kids' program), Katy has always been the center of attention, and we're loving every minute of it!

CLICK HERE FOR KATY PERRY'S AMAZING PERFORMANCE AT THE Z-100 JINGLE BALL!

CLICK HERE FOR KATY PERRY'S CONTROVERSIAL (WHAT ELSE IS NEW) INTERVIEW IN ROLLING STONE MAGAZINE!

Of course, we're HustleTweeting about Katy Perry and all her boobaliciousness, and you're more than welcome to join us! Follow The Hustle on on Twitter HERE or write to us at hustleoncrave@gmail.com
You can also subscribe (for FREE, cheapos, absolutely FREE) to our Ultra High Quality YouTube Channel HERE, and don't forget to check out our old school social networking skills by visiting us on Facebook HERE and even on MySpace HERE
CLICK ON THE PICS BELOW TO SEE THE ENTIRE GALLERY
FEATURING KATY PERRY IN MEXICO CITY!

IT'S TIME FOR AN ALL NEW EDITION OF THE HOLLYWOOD CHARLIE
MEDIA WATCH, OUR DAILY TRAVEL ACROSS THE WORLD WIDE WEB.
OUR HIGHLY TRAINED MONKEYS HAVE PICKED OUT THE 15 WILDEST
STORIES FROM THE INTERNET FOR YOUR ASTUTE REVIEW. YOUR PART
IS VERY EASY. ALL YOU NEED TO DO IS PICK A PIC … AND CLICK!