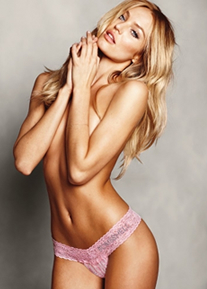 The South African Goddess Strikes a Pose … and Brings The Links!

It's been a whirlwind couple of years for the 5'9" stunning 22 year old South African Goddess Candice Swanepoel. She has, in very short time, become one of –if not the– most successful super models on the face of the planet!
CLICK HERE FOR THE HEYMAN HUSTLE'S FIRST ANNUAL EXCLUSIVE SWIMWEAR EDITION STARRING VICTORIA'S SECRET VERY OWN CANDICE SWANEPOEL!
CLICK HERE FOR THE 50 SEXIEST PHOTOGRAPHS EVER TAKEN OF CANDICE SWANEPOEL!
The amazingly beautiful Victoria's Secret uber-angel continues to be featured in photo sessions that simply make us appreciate the female form more and more and more and more and more. Candice is not only breathtaking, she doesn't let you catch your breath once you lose it. She is in a league of her own.
CLICK HERE FOR AMAZING BIKINI PHOTOS OF CANDICE, ALESSANDRA AMBROSIO, AND ADRIANA LIMA … TOGETHER … IN A PHOTO SESSION THAT … WELL, WHAT CAN WE SAY? WOW!!!!!!!!
CLICK HERE FOR A SUPER HOT VIDEO FEATURING CANDICE SWANEPOEL THAT ALSO JUST HAPPENS TO INCLUDE SOME OF THE HOTTEST NEW PHOTOS OF HER ANYWHERE!
Of course, we're HustleTweeting about Candice, and you're more than welcome to join the conversation by following THE HEYMAN HUSTLE on Twitter HERE or write to us at hustleoncrave@gmail.com
You can also subscribe (for FREE, cheapos, absolutely FREE) to our Ultra High Quality YouTube Channel HERE, and don't forget to check out our old school social networking skills by visiting us on Facebook HERE and even on MySpace HERE
CLICK ON THE PICS BELOW TO SEE CANDICE'S ENTIRE PHOTO GALLERY!


IT'S TIME FOR AN ALL NEW EDITION OF THE HOLLYWOOD CHARLIE
MEDIA WATCH, OUR DAILY TRAVEL ACROSS THE WORLD WIDE WEB.
OUR HIGHLY TRAINED MONKEYS HAVE PICKED OUT THE 15 WILDEST
STORIES FROM THE INTERNET FOR YOUR ASTUTE REVIEW. YOUR PART
IS VERY EASY. ALL YOU NEED TO DO IS PICK A PIC … AND CLICK!