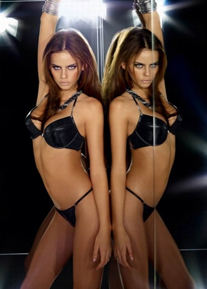 The Brazilian Super Model (aren't they ALL Brazilian?) Teams Up With Our Overworked Underpaid Trained Monkeys To Bring You The 15 Best Stories Heading Into The Weekend!
Daniela Freitas is a blazing hot Brazilian super model, and you have to think the country's sexual icons like ADRIANA LIMA, ALESSANDRA AMBROSIO, and our own Hustle Hottie SASCKYA PORTO are feeling the heat.

Daniela is picking up huge momentum, and we here at THE HEYMAN HUSTLE think it won't be long before she is unquestionably one of the top 10 models in the world. We're HustleTweeting about Daniela, and you're more than welcome to join the conversation. Don't be left out! Let your voice be heard HERE
CLICK ON THE PICS BELOW TO SEE THE ENTIRE
UNCENSORED GALLERY OF DANIELA FREITAS!

THE HEYMAN HUSTLE'S VERY OWN TRAINED MONKEYS ARE PROUD
TO PRESENT THE TOP 15 STORIES OF THE DAY, ALL CONVENIENTLY
LINKED HERE FOR YOUR REVIEW. NO NEED TO SURF THE WEB, WE
DID ALL THE HARD WORK FOR YOU. JUST PICK A PIC AND CLICK!