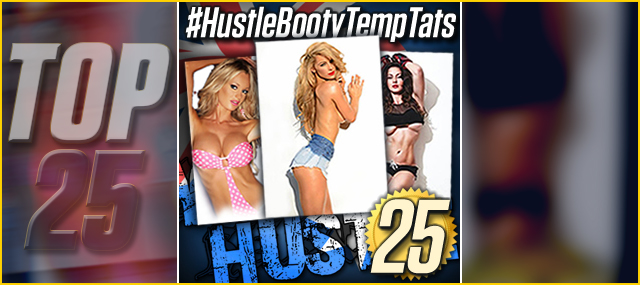 Forget The Maxim 100. YOU drove the biggest interactive vote of the year, and there are twenty five very appreciative women who'd like to thank you for your participation! But there's a much bigger story here … In the year '14, AUSSIES RULE!
The 2014 edition of the #HustleBootyTempTats Top 25 turned out much different than THE VERY FIRST HUSTLE BOOTY TEMP TATS LIST … and this year, a major story emerged.
AUSSIES RULE!
Our top three finalists were all Australian uber-hotties, super models who got their first global exposure through THE HEYMAN HUSTLE. As we announced on Valentine's Day, ELLIE GONSALVES WON THE COMPETITION, and is the new reigning defending undisputed #HustleBootyTempTats Champion. In addition to the 2nd and 3rd place finalists (both Aussie sensations), there are twenty two other finalists, and there's a big story involved in every single placement. Ladies and Gentlemen, thanks to YOUR votes, we present the 2014 edition of The HustleBootyTempTats Top 25!
Let's begin the countdown…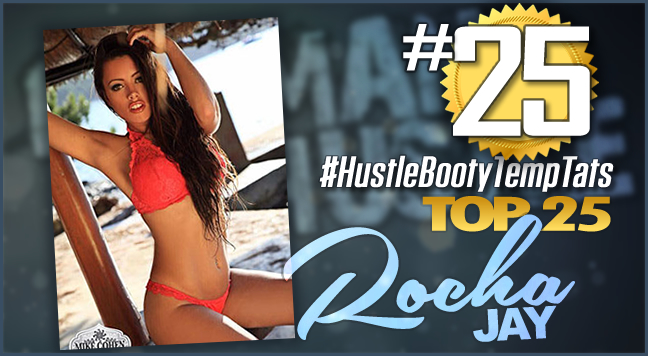 Coming in at number 25 this year is a 5'4" twenty one year old UK model from Birmingham known as Rocha Jay. This British Latina comes to us through the fine lens of #HustleBootyTempTats Photographer Mike Cohen, and became very popular with our HustleTweeters by virtue of her sexy bikini photos and warped sense of humor. You can follow ROCHA JAY ON TWITTER … and you can join the #HustleBootyTempTats conversation with us by following the Hustle HERE or talk about Rocha Jay with our interactive participants on Facebook HERE!