The "Modern Family" Sex Kitten Spells It Out In a Sensation Interview For "Allure Magazine!"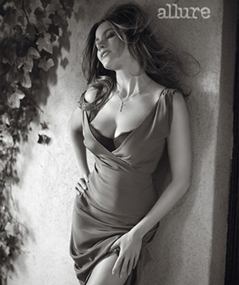 The "Modern Family" Sex Kitten Spells It Out In a Sensation Interview For "Allure Magazine!"
She's so spectacular, we can't lump her in with other "spectacular" women. Even our own Hustler De Tuti Hustlers Paul Heyman was momentarily at a loss for words during our editorial meeting at the offices of LOOKING4LARRY (parent company of THE HEYMAN HUSTLE), until he shouted out "she's uber-sensational!"

So, the uber-sensational star of "Modern Family" told "Allure Magazine" she embraces her sultry side, claiming "The guys I know love it. You don't have to win Miss Universe, but you have to feel attractive, and you have to feel wanted."

She continued, "I have so many friends that are Latin, and they're not Miss Universe, but they have something, and they get more guys than the really tall, blonde, perfect model that is just standing there. So I think sexy is the attitude of you believing that you can get whatever you want."

Vergara, who is a fabulous forty year old, also revealed that she has a bra size of 32F, something that she knows is unusual in Hollywood, but not so unusual for Latin women in general.
"Nobody with real boobs usually has those measurements," she laughed, adding that she dislikes working out. "My ass gets smaller, and my boobs get smaller," she explained to Allure. "I don't mind when the boobs get smaller. I don't like when the ass gets smaller. In Latin America, if you don't have a big ass, you're nothing."
I'm in love. Oh, there's more.
"We're loud. We're passionate. We're coloful. We're voluptuous … I am not scared of the stereotype of the Latin woman, because I think that's fantastic."
We do too, Sophia. We do, too!
Of course, we're HustleTweeting about Sophia Vergara, and you're more than welcome to join the conversation by following THE HEYMAN HUSTLE on Twitter HERE or write to us directly at hustleoncrave@gmail.com Hey, have you checked out the Hustle's Ultra High Quality You Tube Channel, with exclusive videos featuring OUR WORLD EXCLUSIVE WITH MIKE TYSON … BROCK LESNAR'S "HERE COMES THE PAIN" … ICE-T AND COCO's SEX SECRETS … TEEN SENSATION TAYLOR MOMSEN … UFC BAD BOY NICK DIAZ … THE WALKING RIOT MISSY HYATT if you're not subscribing, you're missing something … and by the ways cheapos, it's FREE! Yes, absolutely 100 percent FREE! What are you waiting for? Check it out HERE!
By the way, we're also old school social networkers, so check out our interactive skills on Facebook HERE and even on MySpace HERE. If you're on Friendster, GFY … and have a pleasant tomorrow!
CLICK ON THE PICS BELOW TO SEE AN AMAZING PHOTO GALLERY OF
"MODERN FAMILY" SEX KITTEN SOPHIA VERGARA IN "ALLURE!"