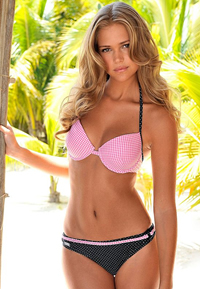 The Israeli Super Model Is Hotter Than A Pastrami on Rye!
Sports Illustrated Swimsuit Hottie Esti Ginzburg turns 21 years old this year, which is an amazing fact since she's already one of the world's most famous super models.

The Israeli-born uber-babe currently lives in Tel Aviv, and caused worldwide headlines with her CRITICISM OF BAR REFAELI REGARDING BAR'S RELUCTANCE TO SERVE IN THE ISRAELI MILITARY

Esti was proud to be drafted into the Israeli Army (IDF) on July 22, 2009, and stated "Military service is part of the things I personally believe in."

Imagine bunking next to Esti!

OY VEY!

We're HustleTweeting about Hot Jewish Girl, and you're more than welcome to join the conversation! Follow THE HEYMAN HUSTLE on Twitter HERE or write to us at hustleoncrave@gmail.com

You can also subscribe (for FREE, cheapos, absolutely FREE) to our Ultra High Quality YouTube Channel HERE, and don't forget to check out our old school social networking skills by visiting us on Facebook HERE and even on MySpace HERE

CLICK ON THE PICS BELOW TO SEE THE ENTIRE GALLERY FEATURING
THE BREATHTAKING BEAUTY OF ESTI GINZBURG!

IT'S TIME FOR AN ALL NEW EDITION OF THE HOLLYWOOD CHARLIE
MEDIA WATCH, OUR DAILY TRAVEL ACROSS THE WORLD WIDE WEB.
OUR HIGHLY TRAINED MONKEYS HAVE PICKED OUT THE 15 WILDEST
STORIES FROM THE INTERNET FOR YOUR ASTUTE REVIEW. YOUR PART
IS VERY EASY. ALL YOU NEED TO DO IS PICK A PIC … AND CLICK!