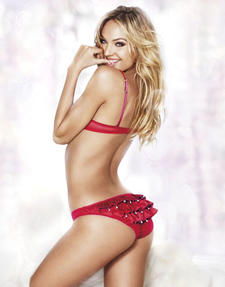 How Does One Say "Santa Needs A Porn Break" In South African?
There are those who think ADRIANA LIMA is the number one "angel" for Victoria's Secret as we head into 2011, and there's certainly a case that can be made for that claim.

There are those who think MIRANDA KERR can lay claim to the number one position, even though she is on a maternity leave. The Awesome Aussie is undoubtedly one of the most beautiful women in the world.

There are those who think ALESSANDRA AMBROSIO is the number one Victoria's Secret angel WALKING THE RUNWAY or GRACING THE PAGES of super-sexy photo spreads, and it's tough to tell those people they are wrong.

But after seeing THESE SAUVAGE SWIMWEAR PHOTOS of Candice Swanepoel's awe-inspiring photo session last week, and THESE PHOTOS featuring the beauty at her sexiest, we're hard-pressed to say she's not the most visible angel on the Victoria's Secret roster.

These new photos, which you can see below, of Candice's fantastic X-Mas collection have once again raised the bar on the gorgeous South African's 2010 photo sessions. We're HustleTweeting about Candice, and enjoying every moment of it, and we invite you to join the conversation. Follow THE HEYMAN HUSTLE on Twitter HERE or write to us at hustleoncrave@gmail.com
You can also subscribe (for FREE, cheapos, absolutely FREE) to our Ultra High Quality YouTube Channel HERE, and don't forget to check out our old school social networking skills by visiting us on Facebook HERE and even on MySpace HERE
CLICK ON THE PICS BELOW TO SEE THE ENTIRE GALLERY
FEATURING THE SOUTH AFRICAN UBER-BABE CANDICE SWANEPOEL!

THE HEYMAN HUSTLE'S VERY OWN TRAINED MONKEYS ARE PROUD
TO PRESENT THE TOP 15 STORIES OF THE DAY, ALL CONVENIENTLY
LINKED HERE FOR YOUR REVIEW. NO NEED TO SURF THE WEB, WE
DID ALL THE HARD WORK FOR YOU. JUST PICK A PIC AND CLICK!