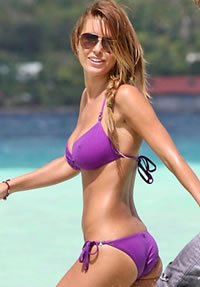 The Reality Star … HOLY S#&! Look At Her In That Bikini!
Audrina Patridge went on vacation to the tropical island of Bora Bora, and her Aussie boyfriend Corey Bohan may need some oxygen soon!

The BMX-Biker dude, an avid surfer from Brisbane, was somehow left out of the photos picked for this story. We have no idea why, and we'll be contacting Jesse Ventura on Monday to launch an investigation into how this possible could have happen. We have our own Conspiracy Theory. What's your's?

Let us know!

HustleTweet us by following THE HEYMAN HUSTLE on Twitter, and let us know your thoughts! Don't be left out, join the conversation. We're discussing Audrina and her purple bikini HERE right now!
CLICK ON THE PICS BELOW TO SEE THE ENTIRE UNCENSORED
AND OH-SO-SPECTACULAR GALLERY FEATURING AUDRINA PATRIDGE!

THE HEYMAN HUSTLE'S VERY OWN TRAINED MONKEYS ARE PROUD
TO PRESENT THE TOP 15 STORIES OF THE DAY, ALL CONVENIENTLY
LINKED HERE FOR YOUR REVIEW. NO NEED TO SURF THE WEB, WE
DID ALL THE HARD WORK FOR YOU. JUST PICK A PIC AND CLICK!