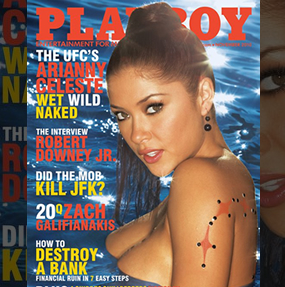 Um, Maybe We Should Re-Think That Headline?
One day, Arianny Celeste will look back at this time in her life and say "wow, I had the world by the balls!"

The uber-popular UFC personality was just named Ring Card Girl of the Year at the Fighters Only MMA Awards in Las Vegas. She's on the cover of Playboy magazine, and attendance at her Playboy signings is apparently booming.

This is no doubt Arianny's time in the sun, and we think the brunette beauty deserves every bit of the success she is enjoying at the moment. We're HustleTweeting about Arianny, and you are more than welcome to join the conversation! Follow THE HEYMAN HUSTLE on Twitter HERE or write to us at hustleoncrave@gmail.com
You can also subscribe (for FREE, cheapos, absolutely FREE) to our Ultra High Quality YouTube Channel HERE, and don't forget to check out our old school social networking skills by visiting us on Facebook HERE and even on MySpace HERE
CLICK ON THE PICS BELOW TO SEE THE ENTIRE GALLERY
FEATURING ARIANNY CELESTE AT A PERSONAL APPEARANCE
PROMOTING HER PLAYBOY MAGAZINE SPREAD LAST FRIDAY!

EVERY SINGLE DAY, OUR CRACK STAFF OF OVERWORKED
UNDERPAID BUT HIGHLY TRAINED MONKEYS SCOUR THE
WORLD WIDE WEB IN SEARCH OF THE 15 HOTTEST STORIES
OF THE DAY, JUST TO BRIGHTEN YOUR DAY. COOL, RIGHT?
ALL YOU NEED TO DO IS PICK A PIC … AND CLICK!